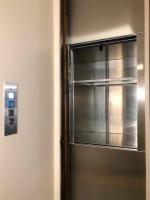 The QuickServe-300 Commercial Dumbwaiter is designed and built for commerical grade use and applications. It can make daily tasks a of transporting heavy or bulky items between floors a breeze. Whether you're moving laundry, sending food to the kitchen, or transporting files, the QuickServe 300-pound weight capacity makes it more than capable for most commerical dumbwaiter applications. A shelf is included but can easily be removed to transport any taller items.
Optional weight capacity upgrades to 500-pounds available. With ETL Certification, the QuickServe-300 Dumbwaiter is approved for commercial applications when properly equipped to local jurisdiction requirements.

Driven by a chain drive machine that can be mounted at the top or bottom of the hoistway, the QuickServe-300 travels at up to 32 fpm along aluminum guide rails. Instant safeties prevent the car from falling in the event of a chain failure, while the mechanical limit switches provide over travel protection and slack chain detection. For added safety, interlocks come standard, preventing the doors from opening unless the car is present, and preventing the car from moving until the door is closed.

Call/send stations allow you to send and retrieve the dumbwaiter from any level and feature "car here" and "in-use" indicator lights.

Not sure if the QuickServe-300 will work for you? We offer custom car sizes and configurations, as well as a number of custom finishes and options.

To learn more about the QuickServer Commercial Dumbwaiter, give our dumbwaiter experts a call today.