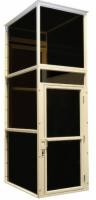 With the AmeriGlide Enclosed Vertical Platform Lift, you can enjoy full access to all areas of your home for an incredible value. This unique model comes with a fully enclosed shaft and is perfect for both indoor and outdoor applications. The steel frame houses acrylic panels that provide protection from the elements and create a neat and clean appearance that will compliment any home.
In addition, the AmeriGlide Enclosed Lift comes with pre-fabricated components, making it easy to install and saving you hundreds on installation costs. It also comes with a long list of optional features that will allow you to customize your lift and for maximum convenience and performance.
To learn more about your options, call today and speak with one of our friendly and knowledgeable lift experts who can answer all your questions and help make your home fully accessible.