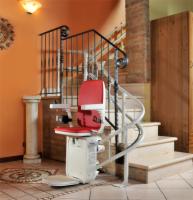 Even people with complicated or curved stairways can enjoy renewed mobility and independence with the AmeriGlide Platinum Curve Heavy Duty Stairlift. Designed specifically to handle up to 352 pounds, this stairlift features a wider seat with adjustable arm widths, extra support bars and legs for stability, and a heavy-duty drive motor to ensure smooth operation. Most stairlifts are suitable for people of 250 pounds and under, but this heavy-duty model lets people who are heavier than average stay in their homes.
Great AmeriGlide features like a swivel seat that makes it easier and safer to get in and out, the ability to raise and lower the footrest without bending over, and security sensors that stop the lift if anything's detected on the stairs make this lift a great choice for homes with curved staircases. Whether yours has curves or multiple landings, this quality lift is built to fit your home and designed with a dual-rail leveling system that keeps the movement smooth and gentle.
For safety, comfort and convenience, the AmeriGlide Platinum Curve Heavy Duty Stairlift is the perfect way for heavier people with mobility problems to navigate their stairs.
Check out the full installation video!