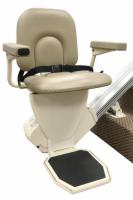 The AmeriGlide Rave is a stair lift unit that's designed for your convenience from top to bottom! When folded up, the Rave takes up only 11.125 inches on your stairway, and the track attaches directly to your stairs - not to your wall! Every point of contact along the track is connected with a single bracket, making installation easier on you or your handyman. With a 350-pound lifting capacity and a padded 19-inch wide seat, the Rave is built for comfort and reliability. This rack-and-pinion drive stair lift operates via any standard household power outlet, but is operated by an onboard battery which constantly draws a reserve charge so that you remain mobile if you lose electricity.
Every AmeriGlide Rave stair lift is proudly made in the United States of America! Call a stair lift specialist today to order yours!
**Please Note** The Rave's swivel seat only rotates 90° for top landing exit. It does not rotate for the bottom landing.