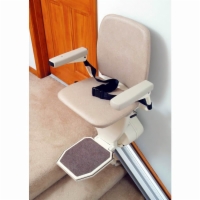 The battery-operated Pinnacle Stair Lift is the narrowest stair lift in the world, as it measures only 10" wide when the footrest and seat are folded and only takes up 11" of space on the stairs when installed. The Pinnacle is also lightweight too, at only 180 pounds installed with 16 feet of track. Just how is this possible? It's possible due to the Pinnacle's patented helical drive system that is extraordinarily compact and energy efficient. Perhaps the best part about this drive system is that it doesn't require any lubrication or grease. Just vacuum it if it gets dirty.
Additional features of the Pinnacle Stair Lift include wireless call and send controls, and easy to operate control switch built into the armrests, a swivel seat that makes entry and exit safe & easy, and a lifetime warranty on the gear rack. Professional installation service is required and included with all Pinnacle Stair Lifts. We also offer free shipping and the most qualified staff in the business.
Just give us a call at 1-888-301-2610 to learn more about the Pinnacle or to place your order. Not available for online sale. Professional installation required.