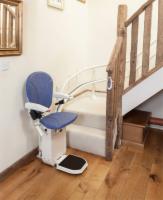 Buy your AmeriGlide Platinum Demo Curved Stair Lift from 4 Stair Lifts and you will enjoy the lowest guaranteed price as well as a fantastic warranty.
A stairlift is the perfect solution when mobility problems make it difficult or impossible for you or a loved one to climb stairs. The AmeriGlide Platinum Demo Curved Stairlift is designed to restore independence to those who can no longer climb stairs but may have a staircase with landings or curves. Standard stairlifts are built for straight staircases, but this versatile lift is specifically designed with curves and landings in mind.
Any stairlift that doesn't quite fit an area can not only be inconvenient but unsafe. Your lift will be hand-built to the dimensions of your stairway, so you know the fit will be perfect. It's designed to be low-profile and take up a minimum amount of space, so you don't have to worry about it ruining the look of your stairway or decor. And it can even be mounted to the stair treads themselves rather than the wall, for more convenience.
You don't have to give up great features like a retractable seatbelt and convenient swivel seat just because you need a curved stairlift. Choose the AmeriGlide Platinum Demo Curved Stairlift today to enjoy an incredible deal! Our demonstration models are gently used in store for a short period of time before being refurbished and made available to the public at a discounted price. You can increase your mobility for a great low price!
Check out the full installation video!