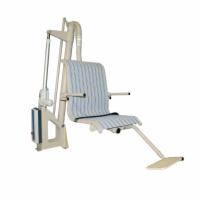 Public Pool Lift For ADA Compliance
Entry and exit of your public pool will be a breeze for handicapped individuals using the Pool Lift by AmeriGlide! The simple installation of this pool lift will make your pool in compliance with the new regulations set forth by the ADA. With a weight capacity of 350 pounds, stainless steel construction, and concrete anchors, you will feel safe every time using the AmeriGlide Pool Lift!
The AmeriGlide Pool Lift has a removable battery pack and hand controller which reduces the risk of unauthorized usage of the lift.
Quantity discounts are available if you are purchasing 3 or more pool lifts. Call our lift experts today!